By Rachel Moss
Professor Sophie Scott, a neuroscientist at University College London, explains that many of us enjoy shopping because it promotes the surge of feel-good hormones in the body.
"You get a dopamine hit with shopping, and in fact, the dopamine hit seems to be associated with the contemplation of buying something new, so the act of doing it, rather than the thing turning up," she tells HuffPost UK.
That's not to say you won't get another kick from that knock on the door in quarantine, opening it to a parcel left on the doorstep – and giving a wave to your hero postman or woman from a safe social distance.
Lucie Blay, 29, from Battersea, London, has been buying home furnishings and kitchen equipment throughout lockdown, partly because she recently moved, also because it's making her feel good. "I don't think I would have spent that much if it wasn't for the pandemic," she tells HuffPost UK. "I'm investing in my space, because it's all I see so it needs to make me happy."
Hannah Vettese, 26, from north west London has also been keeping her debit card busy, buying beauty and gardening supplies, a frilly shirt, some cheery lemon earrings and presents for loved ones. "I've definitely relied on retail therapy and then feel awful for people packing and delivering it," she says.
Because it's the browsing that rewards the brain when shopping, rather than the product itself, we might feel compelled to repeat the cycle for the same stimulation. "That's possibly why it gets a bit more addictive," says Prof. Scott.
In Birmingham, Jo-Anne Stevens, 40, says she "may as well be burning money right now".
"I'm literally buying anything – drums, crystals, art, makeup online courses," she admits. "I have a habit that comes out to play when my anxiety acts up."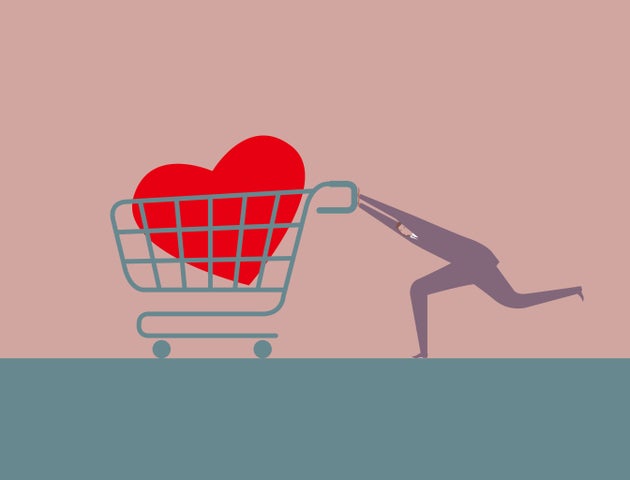 Time (and future studies) will show the true extent of an upsurge in online spend during lockdown, but Scott says not surprised to hear people are using retail therapy to cope with the crisis.
"With anything that people find relaxing, calming and a piece of normal routine, you're going to get more of it if people can do it," she says. "Picking up the computer and being able to shop online is an extremely easy way for people to do that, so it would make a lot of sense for it to have gone up in frequency."
Researchers are already collecting data to determine exactly how consumption is changing due to the pandemic, says Professor Fleura Bardhi, who's based at City, University of London.
Her research covers "life transitions and consumption", which means observing how the patterns of our buying habits shift as we manage challenges, from divorce to relocation. She anticipates a shift in the sort of products we are buying during the pandemic.
"Many people will have shifted to shopping for consuming more at home, for example, cooking all their meals rather than eating out and conducting all their entertainment activities, exercise, and work from home," she says. "So, [we'd expect] a surge in shopping for things and services related to these activities."
The shopping we're now indulging seems a far cry from the early pandemic days of toilet paper stockpiling, which therapists suggested was driven by a need for control. Anecdotal evidence suggests we've moved on to buying items to entertain us or provide a form of self-care.
Our definitions of what counts as "essential" appear to be changing. Stay-at-home shoppers told HuffPost they've been purchasing activewear and equipment, craft supplies, candles, beauty products, games, gardening supplies, posh PJs and so much more to make lockdown more bearable.
Not everyone will be splashing the cash, of course. Financial uncertainty is a reality for many during the pandemic and those preparing for an uncertain future may be trying to save more, or instead "investing in things and services that may provide a sense of personal or health security", says Prof Bardhi. Some of us are also concerned about the ethics and safety of online shopping right now, and whether it's fair to place demand on factory workers and delivery drivers.
Ann Gallagher, professor of Ethics and Care at the University of Surrey, previously told HuffPost UK that thinking about who you're purchasing from and how they're operating might mitigate some of these concerns.
If in doubt, shop from small, local businesses and ask them what safety measures they have in place for customers and employees.
And remember, browsing for a purchase is scientifically proven to be the best part of shopping, so take your time, scroll guilt-free and think before you click.
Via:: https://www.huffingtonpost.co.uk/entry/shopping-more-in-lockdown-retail-therapy_uk_5ea15cc2c5b6194c7be8b54f