In Europe, countries including the Czech Republic and Slovakia have imposed mandatory face-covering. Czech citizens led a campaign to make and distribute homemade face masks, which resulted in the Czech government making it compulsory for people to wear them when leaving the house.
Influencers and even the mayor of Prague shared selfies sporting homemade masks. As Peter Ludwig, who helped spearhead the #Masks4All movement, says: "We pushed our government to make masks mandatory and in just three days everyone outside was wearing a face mask."
And in the UK, the Mayor of London Sadiq Khan recently came out in support of face coverings for slowing the spread of the virus.
"We are now an international outlier for not recommending their use," he tweeted. "I urge the government to encourage people to wear non-medical face coverings when they can't keep a safe distance from others."
As the UK anticipates life beyond lockdown, the question of whether we should be covering our faces when we leave the house is unlikely to go away.
Face masks or covers: what's the difference?
Trisha Greenhalgh, Professor of Primary Health Care Services at the University of Oxford, is one of the scientists who thinks the UK public should now be wearing face covers when in crowded places like public transport and supermarkets. "It's a socially responsible thing to do and may save lives," she tells HuffPost UK.
It's important we make a distinction made between covers and masks, she says. The two are often conflated, leading to confusion and the risk that people buy up the surgical masks that healthcare workers desperately need.
"A medical-grade mask protects the wearer and is needed by front-line healthcare workers. It's also not very attractive or comfortable," she says. "A cloth mask protects other people from your coughs and sneezes. It's more comfortable and you can personalise it and make it fit your own style."
There are guides online for how to create a DIY face covering. Prof Greenhalgh says: "You can make it out of a soft old t-shirt, for example. Chuck it in the laundry at the end of the day; detergent kills the Covid virus."
However, some remain sceptical. Professor Paul Hunter, an infectious diseases expert and Professor in Medicine at University of East Anglia, has analysed numerous studies on the use and effectiveness of face masks.
Discussing whether face covers in particular are effective, he previously told HuffPost UK: "We don't know enough. A simple bit of a t-shirt is unlikely to do a great deal, but that's not to say all cloth masks will be pointless. My advice would be that they're not that useful."
The government's scientific advisory group for emergencies (Sage) met on Tuesday to review the evidence on face masks – the group is apparently split on the best policy to adopt because of the evidence, the Guardian suggests.
So, how effective are face covers?
As it stands, there are no trials of face covers such as DIY cloth masks and their ability to protect the general public during a pandemic.
One study of reusable cotton masks found that if a person had Covid-19 and coughed on someone from a distance of 8in, wearing a cotton mask would reduce the amount of virus transmitted by 36 times. The authors of the study took these findings to mean the cotton mask was ineffective.
Prof Greenhalgh argues otherwise in her essay, Masks For All: The Science Says Yes, with research scientist Jeremy Howard – if a person transmits 1/36th the amount of virus, she says, this decreases the viral load, which is "likely to lead to a lower probability of infection, and fewer symptoms if infected".
A previous study from 2015 found cloth masks were less effective than surgical masks in preventing healthcare workers from becoming sick from influenza-like illness. There has been no comparison of cloth masks with no masks, however – nor any studies of their efficacy in public rather than a healthcare setting where exposure to the virus is likely to be higher.
Why not just wear face masks?
A quick walk around the block reveals many people in the UK have already bought medical-grade face masks – whether from local shops, pharmacies or sellers online. But the government are worried that if the public buys up these supplies of personal protective equipment (PPE), key workers may go short.
And they need all the protection they can get. At the time of writing, at least 100 health and care workers are believed to have died of coronavirus, while political debate continues to focus on the shortages of PPE in the UK and the delays and lack of preparedness in getting it to those on the frontline.
It's in this context that the government has not officially advised us to cover our faces outside. Public Health England (PHE) recommends that face masks should be used in clinical settings such as hospitals, and by people with symptoms of coronavirus. As yet, it has issued no guidance on face coverings or handmade masks.
When HuffPost UK asked the Department of Health and Social Care (DHSC) whether its advice on wearing masks or covers is likely to change, a spokesperson referred to the comments of chief government scientific adviser Sir Patrick Vallance at the daily press conference of April 17.
"We are looking at it now," he said. "The evidence is quite variable around masks and it isn't easy to get a firm position on some of it. One thing that is clear is it is absolutely crucial that the masks are available in hospitals and other high-risk transmission areas."
How to make your own cover or mask
If you do want to make your own, the Masks4All website has a range of online tutorials. It advises the use of tightly woven fabric that you can still breathe through and including a layer of paper towel as a disposable filter – which you can slide between two layers of cloth.
Critically, wearing a homemade face cover or cloth mask should not detract from the things we should all be doing to reduce our risk of contracting the virus – hand-washing, covering coughs and sneezes, social distancing, adhering to lockdown measures and self-isolating (where needed).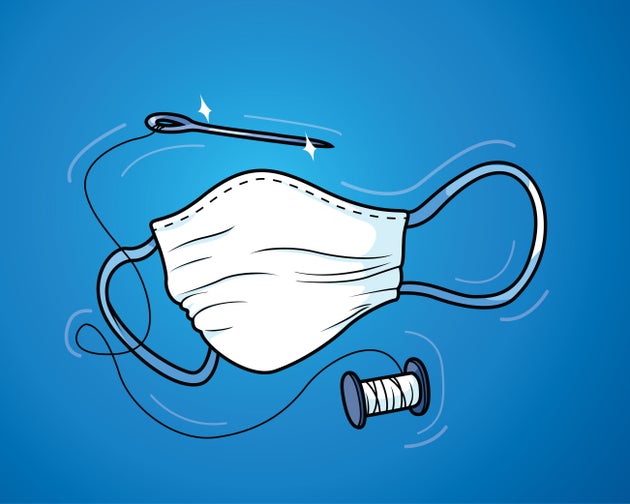 A new study by US-based social enterprise Smart Air of 30 different materials for DIY face masks – including bra pads, coffee filters, pillow cases, electrostatic cloths, cotton T-shirts, wool, bed sheets, polyester, bandanas and more – looked into effectiveness in filtering coronavirus-sized microparticles, as well as their breathability. It recommended denim, bed sheets (80-120 thread count), paper towels and canvas (0.4-0.5mm thick) as the best materials to use.
Some fashion brands have come under fire for manufacturing fashion face coverings. Boohoo, for example, was slammed for selling £5 masks with messages such as "Eat, sleep, isolate, repeat" and "If you can read this, you are too close". The brand has since apologised and removed the masks from sale.
But Prof Greenwalgh believes "making face coverings a cheap fashion item" is exactly what is needed. "We need clear water between PPE for healthcare workers and what we wear to go shopping," she tweeted – adding that her son is a health-care worker and she doesn't want people "taking his masks".
How to wear a DIY cover or mask safely
On 6 April, the World Health Organisation (WHO) issued guidance to reflect the changing stance on face masks in different countries – if people wear masks, they should use them safely and properly, it said in a statement.
In a recent editorial in the journal JAMA, researchers shared the best way to wear a face covering:
1. Wash hands with soap and water for at least 20 seconds before putting on your makeshift mask.
2. Secure the mask ties behind your ears or head without touching your face. The mask should fit well over your nose and mouth without restricting your breathing.
3. Do not touch your face or the front of the mask while wearing it.
4. When you come to remove it, release the ear loops or ties without touching your face or mask.
5. Wash your hands with soap and water for at least 20 seconds after removing the mask. You should wash your mask after every wear with detergent and at least 60 degrees Celsius.
Via:: https://www.huffingtonpost.co.uk/entry/wearing-diy-face-masks-face-covers_uk_5e9eb809c5b63c5b58742917