By Rachel Moss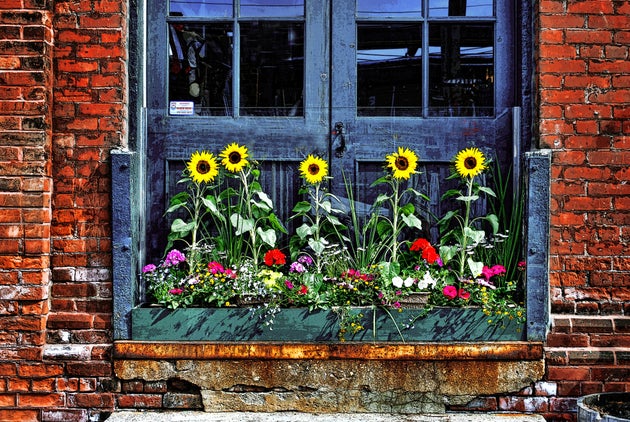 Step 1: Choose your container
Although wooden or plastic troughs are traditional, any sturdy container will do the job, says Barter. You're looking for something that's at least 15cm deep and if you intend to keep it on an external window ledge (rather than your internal window sill) you must be able to fix it securely to avoid harming by-passers if it falls.
"The polystyrene boxes that vegetables are delivered in are popular alternatives," Barter adds. "Tubs of all sorts can be used; old catering size cooking oil cans, drums from derelict washing machines, old water tanks can all be pressed into service now that purpose-made tubs and containers are not easily sourced."
If you're creating a DIY container, make sure drainage is good by knocking or drilling plenty of holes in the base.
"Cover the drainage holes with scrunched up packaging, broken flowerpots, moss raked from a lawn or fine mesh to prevent the potting compost being washed out," says Barter.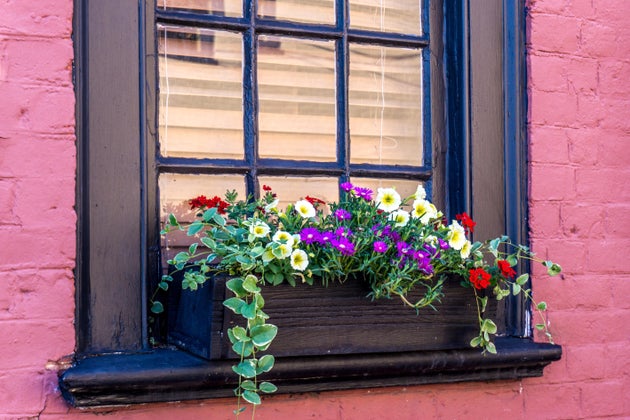 Step 2: Fill with soil
You should aim to fill the container to within 5cm (or 2 inches) of the top with potting compost, says Barter.
"Potting compost is also hard to find at the moment, although you can re-use last year's compost," he adds. "Alternatives include blends of garden soil with bark chips, compost, the harder forms of unused cat litter, fibrous soil raked from beneath hedges or sand left over from building jobs. The compost should drain fairly well and have an open appearance."
If you have any fertiliser, add it at a cupful to every bucketful of compost, he suggests. Otherwise you can add liquid fertiliser later – and be resourceful about it. "Make your own by filling a tub of nettles or lawn mowings and collecting the liquid that seeps out as the plant material rots," Barter suggests. "Dilute the resulting evil ooze to pale yellow or straw colour and water it on your plants every day."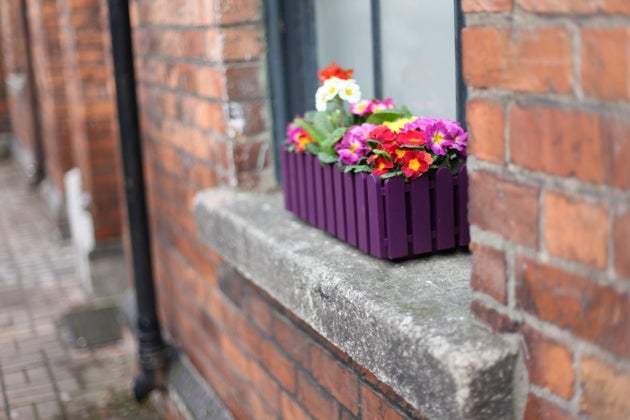 Step 3: Add plants
There are plenty of plants that are suitable for window boxes, including flowers, fruit, veg and herbs. Garden's World has a full list of suggestions, from strawberries and chillies to perennials and pelargoniums.
Unfortunately, finding these might be easier said than done in the current climate, so unless you can get your hands on a delivery – or you have some plants already bought or left over from last year – improvisation might be required.
"Gather weeds – ivy, red dead nettle, groundsel, chickweed and annual meadow grass – these make charming low growth and attract insects," says Barter.
"For shady places rake up moss from lawns and waste areas to make a moss garden. Plant sweet potatoes, common potatoes, carrot tops and small onions to make a leafy garden and possibly later, some potatoes."
Whatever you run with, you should add a little extra potting compost around the plants, leaving at least a 2cm gap at the top to help watering.
Step 4: Water after planting
If you haven't filled your container where it's destined to remain, move it to its final position before watering – it's about to get very heavy.
"Watering is essential as containers must never dry out," says Barter. "They might need watering every day, especially window boxes on windy ledges."
Growth should be rapid now that spring weather is finally here, he adds, so get ready to kick back and relax with cuppa in front of your hard work.
Via:: https://www.huffingtonpost.co.uk/entry/how-to-make-a-gorgeous-window-box-without-going-to-the-garden-centre_uk_5e8c497ac5b6e1d10a6976a2