What's the purpose of face masks?
Typically, surgical masks are worn during surgery to protect a patient from droplets from a surgeon's mouth, explains Prof Hunter. However, they are now being used in healthcare environments with Covid-19 primarily to protect the healthcare workers from the virus. "Although they do work both ways, they are primarily designed to stop the wearer infecting other people," he says.
Are they failsafe?
"Nothing is 100% [failsafe]," says Prof Hunter, but surgical masks are effective at capturing droplets and intercepting airborne viruses. Research found that N95 masks in particular were very effective at blocking transmission of SARS, for example.
The issue with face masks is that they must be worn correctly, changed frequently, removed properly, disposed of safely and used in combination with good overall hygiene behaviour in order for them to be effective.
"Masks are effective only when used in combination with frequent hand-cleaning with alcohol-based hand rub or soap and water," says WHO. "If you wear a mask, then you must know how to use it and dispose of it properly."

Healthcare professionals are obviously trained in this, but for the rest of us, the chances of mucking up are high. Research has also shown that compliance with the recommended hygiene practices reduces over time when people use face masks over an extended period.A general rule of thumb is that they should be replaced after three hours, says Prof Hunter.
Who should be wearing a face mask right now?
As it stands, Public Health England (PHE) recommends that face masks should be used in clinical settings such as hospitals, and by people with symptoms of coronavirus. A recent study backs this up, suggesting that surgical face masks could prevent transmission of human coronaviruses from symptomatic individuals.
What about everyone else? Dr Jake Dunning, head of emerging infections and zoonoses at PHE, says: "There is little evidence of widespread benefit and for the majority of people, in terms of being protected against other people's infections when doing usual activities – such as an essential shop at the supermarket – the most effective thing you can do is to wash your hands frequently and use tissues when you cough or sneeze, or cough into your arm."
Prof Hunter adds that PHE will continue to evaluate this advice as and when new evidence emerges.
The global spread of the virus, and the availability of a wide range of conflicting information about masks online, has made it quite confusing when it comes to knowing which advice to follow. The World Health Organisation (WHO), for example, advises that people should wear a mask if they are coughing or sneezing (as the virus spreads predominantly by droplets in the air), or are healthy but taking care of someone with suspected coronavirus.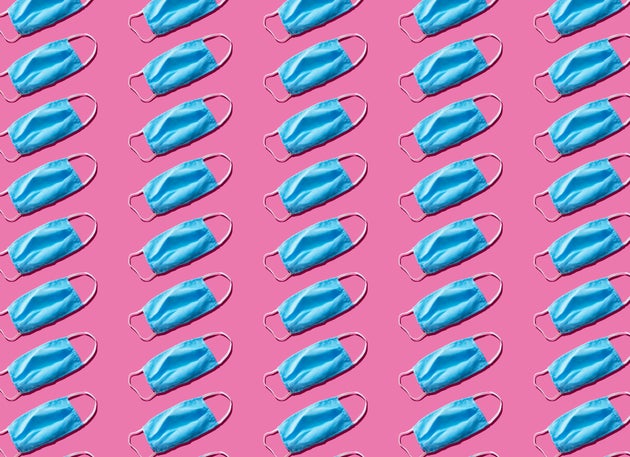 New evidence is also emerging that suggests vulnerable people might benefit from a mask if they go out and about, which may be relevant once lockdown measures lift. A UK-based review of existing face mask studies by researchers at the University of East Anglia, including Prof Hunter, concluded that wearing a face mask could be beneficial for vulnerable people while using public transport or visiting shops and crowded places. At this stage, though, anyone classed as vulnerable should be aiming to stay indoors – a process known as shielding.
The study found that people who wore masks, usually of surgical grade, were less likely to get respiratory symptoms from casual exposure in the community. It's a small reduction in risk, researchers said, but it might be important to vulnerable people.
The evidence is not strong enough to recommend widespread use of masks in the general population, however. It's also worth flagging the research didn't look at the spread of Covid-19, due to it being a new strain of coronavirus.
Does buying a mask impact NHS staff?
Yes, it does – and that's what makes it even more difficult for health advisers right now. "Part of the problem, irrespective of whether the masks are of value, is because of the widespread purchase of them, healthcare workers are running short," says Prof Hunter.
"That's the worst thing that can happen," he adds. "We are all in more danger from Covid-19 if health care workers cannot obtain the safety equipment they need, which could happen if community demand for face masks becomes too high."
What are the downsides of face masks?
Wearing a mask in situations where it is not recommended to do so can create a false sense of security because it might lead people to neglect more crucial hygiene measures, such as proper hand hygiene, or maintaining social distancing. For example, people might think they're safe, if wearing masks, to go and meet up with mates. But this isn't the case and must be avoided.
Masks can also be uncomfortable, hot and cause skin reactions – and they need to be disposed of correctly to prevent transmission.
Hand-washing is a far simpler measure to keep up with than the correct mask protocol. Washing hands well only requires 20 seconds of concentration occasionally throughout the day. In contrast, it is difficult to wear masks correctly for many hours over many days – not to mention costly.
Why can't masks be washed or reused?
The surgical masks that people can buy online and from some pharmacies are made from a material which degrades pretty quickly.
"They're essentially made out of paper," says Prof Hunter. He acknowledges that some people have been trying different approaches including disinfecting them to try and reuse them, but stressed that their makeup is quite complex.
In the centre of the masks is a material that's better at trapping viruses, he explains, but if that gets wet, damaged or displaced during the washing process, the mask becomes "useless".
What's the correct way to use a face mask?
This depends on the type of mask you're using. Generally, it's good to follow the WHO's guidance on this:
Before putting on a mask, clean hands with alcohol-based hand rub or soap and water.

Cover mouth and nose with mask and make sure there are no gaps between your face and the mask.

Avoid touching the mask while using it. If you do, clean your hands with alcohol-based hand rub or soap and water.

Replace the mask with a new one as soon as it is damp and do not re-use single-use masks.

To remove the mask: remove it from behind (do not touch the front of mask); discard immediately in a closed bin; clean hands with alcohol-based hand rub or soap and water.
Should you make your own face mask?
If you fall into the group of people who shouldn't be buying masks as a priority, can you make your own instead from clothes or material you have at home?
There are guides around the internet on how to do so, but the evidence on whether a home-made mask works or not is pretty limited. The same can be said about wearing a cotton scarf over your nose and mouth.
"We don't know enough," says Prof Hunter. "A simple bit of a t-shirt is unlikely to do a great deal, but that's not to say all cloth masks will be pointless.
"My advice would be… that they're not that useful."
That said, one very small study on the flu virus did find that while masks made out of cotton t-shirts were much less effective than proper surgical masks in preventing wearers from expelling droplets, they did reduce the number of droplets that were expelled.
The researchers concluded: "Our findings suggest that a homemade mask should only be considered as a last resort to prevent droplet transmission from infected individuals, but it would be better than no protection."
So what do you do now?
"The crucial thing is that we have to protect our healthcare workers," says Prof Hunter. This means not buying masks if you don't fall into a category that needs to.
"If you know you've got the infection, you need to isolate yourself," he says. "If you're in an environment where you can't [for example, if you live with others], you should probably wear a face mask.
"Everybody should be following social distancing advice but for those people who are vulnerable but can't social distance because they're in an important job or whatever, on balance, in your position, I would probably wear a face mask."
Via:: https://www.huffingtonpost.co.uk/entry/face-masks-coronavirus-key-questions-answered_uk_5e8c6f96c5b6e1d10a69ead5