By Ned Simons
Get the latest on coronavirus. Sign up to the Daily Brief for news, explainers, how-tos, opinion and more.
Britons have been warned by a leading global expert in the spread of coronavirus it is "not a good idea" to contract the disease on purpose in an attempt to secure a so-called immunity passport, which could grant them the freedom to return to normal life.
The government is hopeful of obtaining an antibody test that would show whether someone has already had the illness.
People who have recovered from the disease are thought likely to be immune, or at least to have increased immunity.
Boris Johnson has previously talked up an home antibody test as a potential "game changer".
And Matt Hancock, the health secretary, has raised the possibility the government could grant an "immunity certificate or maybe a wristband" to people "when the science is good enough" to allow them more freedom from lockdown measures.
David Heymann, professor of infectious disease epidemiology at the London School of Hygiene and Tropical Medicine, told HuffPost UK there was "always a concern" people could therefore try to be infected deliberately.
"There was chickenpox before," he said. "Many times people try and expose their children to measles to get them sick early on so they would be immune later on.
"It's not a good idea. This disease is infectious and it affects all people and can cause illness in all people."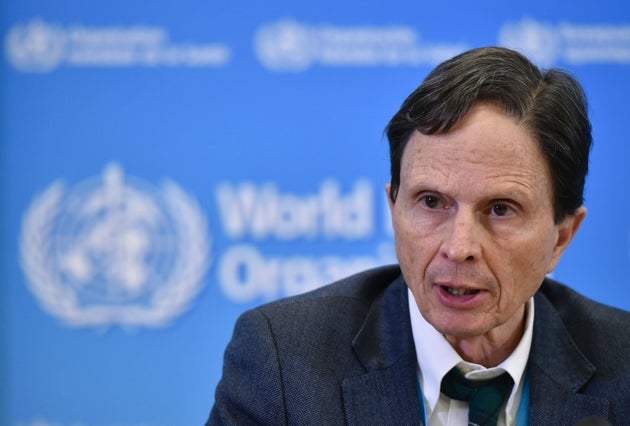 Heymann headed up the World Health Organisation's (WHO) response to the 2003 Sars epidemic. From 2012 to March 2017 he was chair of Public Health England (PHE).
He said the form any immunity document took "would depend on the government and what national tradition is".
The professor, who is currently advising the WHO on coronavirus, added: "I think if there is a passport rolled out where there are people with antibodies who are then able to go back to work, there has to be clear instructions to them as to what that means and the risk of trying to become infected themselves."
But professor Sir John Bell, who advises the government on coronavirus, warned today it would be "at least a month" until a reliable test was available.
Writing on his website, the Oxford academic said: "We clearly want to avoid telling people they are immune when they are not, and we want all people who are immune to know accurately so they can get back to work.
"The Spanish apparently returned test kits that were not working, and the Germans who are developing their own sensitive kits believe they are three months away from getting these available and validated."
And Professor John Newton, the director of health improvement at PHE who has been tasked with overseeing the UK's coronavirus testing regime, told The Times the antibody tests looked at so far by the government were "not good enough to be worth rolling out in very large scale".
The number of coronavirus-related hospital deaths in the UK stood at 5,373 patients as of 5pm on Sunday, up by 439 from 4,934 the day before.
Amid some attacks on how the UK government has responded to the spread of the virus, Heymann said it "doesn't do any good to just criticise" past actions of ministers and officials.
"I don't think it's useful to look back at this point in time. We're all in this together. We have to move forward together. What's happened in the past will be identified afterwards," he said.
He added "of course" it was a bad idea to set an arbitrary date for when lockdown measures would or should be lifted. "It needs to be done on current risk assessment and containment of the targets that have been set for the lockdown," he said.
Via:: https://www.huffingtonpost.co.uk/entry/coronavirus-infection-immunity-passports_uk_5e89df7cc5b6cbaf282ae5ff