By Chris York
A British entrepreneur who starred in The Apprentice is facing questions over unpaid wages in the UK and India – and £530,000 of unaccounted-for investments made in his business by start-up firms.
Through a number of his own companies, Raj Dhonota has entered into contracts with at least 20 entrepreneurs since 2017, promising to use his skills and cash to develop their ideas and investments into working apps.
But none of those 20 came to fruition, and none managed to recover the money they had paid Dhonota's businesses up front.
The unfolding financial turmoil caused by the coronavirus crisis has only compounded problems for many.
"I personally had to borrow the money from family and friends. They have now lost their jobs as well as a result of Covid-19 and see asking me to repay the loan back, but unfortunately I do not have the money to do so either," one person told HuffPost UK.
"My family members don't speak to me any more."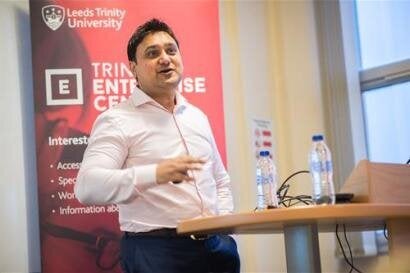 Meanwhile, staff both here and overseas were left out of pocket when wages were not paid, with courts eventually ordering Dhonota's company Ignivia to pay up – something he admits it still hasn't done.
Dhonota denies he benefited personally from any of the investments and says the products will be delivered – eventually.
"Ignivia suffered losses from managing the portfolio which meant it was not able to pay the salaries of its staff," Dhonota exclusively told HuffPost UK.
"When it became clear that this was the case, the UK office was closed. At that time it was not able to clear the final salaries. The business tried to settle the same earlier but was not able to given the problems it had faced."
He now says he expects to settle outstanding payments by June – 17 months after a court ordered him to pay up.
Dhonota told HuffPost UK he could "readily admit" there had been "delays" in delivering the projects his businesses had been paid to do.
He blamed the death of family members – one of them a director at Igniva – for the firm's "underperforming" UK office, and admitted that profits the company expected "never materialised within the time planned", leaving it without the means to support other start-ups.
But he insists he is still working on delivering the projects, and that anyone requesting their money back may be in breach of contract.
"I personally have invested further funds and spent the best part of two years doing whatever is needed to ensure the projects can be completed," he said, adding: "It is our intention to complete all the projects and if that obligation cannot be fulfilled, Pressed Investments will take steps to refund the funds invested."
Howard Jacobson, an entrepreneur from Cardiff, told HuffPost UK: "I approached Raj to help us invest in this app. His spin is basically that 'I've got a business in India called Igniva who will build it for you but you've obviously got to put a bit of skin the game.'"
Jacobson invested £15,000 of his own money at the beginning of 2017 but nearly three years and countless excuses later he is yet to see anything resembling a completed product.
"Businesses do fail," he said. "It does happen.
"But when you have 30 of them, then there's something not right there."
The Apprentice
Raj Dhonota's first foray into business in 2001 was an estate agent's in Bexley which he claimed would be so revolutionary it would create 3,500 new jobs. But just months later staff turned up to work to find the business locked and Dhonota filed for bankruptcy.
Undeterred, he appeared in the reality show in 2005 and went on to a career in funding start-ups, pledging £1m of his own money in 2014 to help new businesses.
He graced a number of business magazines at the time to promote his venture, telling one: "I want to help people. I believe if I had the help of a mentor and more funding, my first business would have been successful."
On his website, Dhonota claims to have raised more than £28m and invested in more than 100 projects – but HuffPost UK has learned of at least 20 instances since 2017 where he has entered into contracts with individuals, promised to develop their ideas with Igniva and then, as soon as money has been handed over, fobbed them off with a string of excuses.
In total, investors handed over £533,863 and haven't seen a penny in return. In every case, the project stalled and Dhonota became increasingly difficult to contact.
"He jerked me around for many months with no milestones or progress reached," one American customer, who wishes to remain anonymous, told HuffPost UK.
Another said: "It was very hit and miss – they were constantly pushing back the development."
In a statement to HuffPost UK, Dhonota said he had been unable to respond quickly to some people because he was "heavily immersed in leading the restructuring, recruiting key people, establishing new teams and so on which limited my ability to respond promptly to a very large volume of emails." He added that the deaths of three family members had left him out of the office for periods of time.
One of the biggest financial losers has been South African Heather Naude, 33, who in July 2018 took out a loan and raided her savings to put £40,000 towards Igniva developing her idea for an app.
Initially, contact between her and Igniva went smoothly, but one by one the team working on her project all started to leave the business – due, she was told, to illness.
"We were starting to create the document of understanding and the initial guy I was speaking to was fine at the beginning but then started being ill and having family that were ill," she said.
"It got to a point in May or June and I emailed Raj and said: 'Look, this illness is really impacting – we were supposed to be going live by now'."
Heather was assigned another member but they, too, allegedly became ill.
"That was when I emailed Raj to say I needed to stop working with Igniva because Igniva cannot deliver."
Dhonota refused to return her funds and instead said he was going to set up a new team, paid for out of his own pocket.
"He asked for eight weeks to put this team together and after 10 or 12 weeks I asked where the new team was and he asked for more time. I just reached a point in November where I sought legal counsel."
Former staff have told HuffPost UK the high staff turnover was primarily down to the fact developers weren't being paid by Dhonota, who outsourced the technical development of the projects to a team called NexCode in India.
One of those developers, who wished to remain anonymous, told HuffPost UK: "For the last three months, we did not get our salaries. When we asked him to give us our salaries he told us he had not got money from clients and was unable to pay."
They also told HuffPost UK there were 37 others in the same situation.
Meanwhile, two staff working for Igniva Digital in its UK office told HuffPost UK they were forced to quit after not being given computers to work with, in some cases still owed thousands of pounds, and on occasion were made to work from home as the office had been locked due to the rent on the building not being paid.
Rebecca James was employed as a social media assistant for Igniva Digital in November 2017 and resigned in July the next year after months of delayed pay cheques meant she had to use her savings to pay rent.
"Basically his take on it was: 'Well, you've got to be patient – if you don't think you can do it, you know where the door is,'" she tells HuffPost UK.
"I was paying for therapy and I had to cancel it because I couldn't afford it any more and I ended up on anti-depressants because of the stress Igniva caused."
Last year James was forced to turn to an employment tribunal to recover wages due to her, and in January the court ordered Dhonota to pay her £1,670.93.
Over a year later, she claims he still hasn't paid up.
By the end of last year, some of those who had dealt with Dhonota began to wonder if they were alone in their experience.
"In December I searched his name again because something never quite sat right with me," says Heather.
"And that's when I connected with others who had posted on Facebook and that's when we started snowballing into the LinkedIn and WhatsApp groups."
All told, there are more than 50 people across the globe in those groups, all claiming to be either unpaid former and current employees, or customers whose start-ups never materialised.
According to Companies House records, Dhonota is the director of two companies – Igniva Digital Limited and Raj Dhonota Limited (RDL). Neither has filed financial accounts for 2018 or 2019.
In January, RDL filed to be struck off, but some of those who say they are owed money have lodged an appeal against this.
Then, in February, RDL changed its name to Preseed Investments Limited. Around the same time, a Twitter account in Dhonota's name that had promoted his work for a number of years was deleted.
In a statement to HuffPost UK, Dhonota said: "Whilst the delays have been frustrating, they have not resulted in a breach of the agreements we have. Unfortunately, some founders do not understand this."
Meanwhile, Dhonota's personal Facebook page documents international trips, a shopping spree and swanky dinners.
But any suggestion he had personally benefited from investments made by start-ups was not true, he told HuffPost UK.
He said he had spent the majority of the last two years in India dealing with business issues or issues resulting from the deaths of family members.
"There have been family celebrations or weddings that I have attended, a small birthday celebration and also a team building exercise with around 10 employees," he said.
One post claimed he had "shop[ped] so much" that items had to be dropped off at his hotel.
But he told HuffPost UK: "A local Indian brand had a promotion and I posted the items I bought along with the various free items I received – all for less than £100."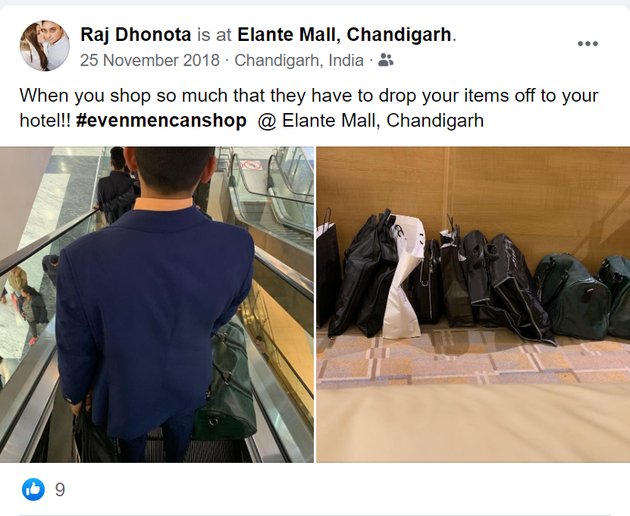 A spokesperson for Action Fraud confirmed the National Fraud Intelligence Bureau was assessing two allegations made by start-up founders who had invested money in Dhonota's businesses.
"Action Fraud can confirm that it received [two reports] in June 2019, and [one report] in September 2019," she said.
"All three reports were assessed by the National Fraud Intelligence Bureau (NFIB) at the City of London Police which found there were not any leads that would result in a successful criminal investigation at that time.
The reports have been recorded on our system as information reports and will be used by the NFIB for intelligence purposes.
"Action Fraud can also confirm it received [two reports] in February 2020 and they are currently being assessed by the NFIB.
"These reports could include new information which mean viable lines of enquiry are established. If they do, all of the reports will be sent as a full case to the most relevant police force for investigation."
Via:: https://www.huffingtonpost.co.uk/entry/raj-dhonota-apprentice-unpaid-wages_uk_5e57af1fc5b66622ed7793df