By Paul Waugh
Coronavirus has changed everything. Make sense of it all with the Waugh Zone, our evening politics briefing. Sign up now.
Families hit by lost income from the coronavirus outbreak are facing a "double whammy" after the government quietly axed universal free school meals for primary school infants, children's charities and trade unions have warned.
The Children's Commissioner for England, the Children's Society, the Labour party and union chiefs have now urged education secretary Gavin Williamson to rethink a new scheme which provides free lunch vouchers only for the most disadvantaged, HuffPost UK can reveal.
While the voucher system was widely welcomed, many families on low or middle incomes won't qualify even though free meals are meant to apply to all school pupils aged between five and seven.
The new scheme unveiled on Wednesday will allow schools to issue electronic gift cards or vouchers worth £15 a week per child, to spend at supermarkets including Sainsbury's, Asda, Tesco, Morrisons, Waitrose and M&S.
But the small print of Williamson's guidance makes clear that the policy of universal free meals for all under-8s – those in reception class, Year one and Year two – will not apply during the Covid-19 outbreak.
And with nearly a million more people applying for Universal Credit because of lost income during the crisis, many of their children are set to miss out if they earn more than £7,400 a year after tax.
Williamson is also coming under pressure to fund free school meal vouchers during the Easter holiday period, to help parents facing an unprecedented financial squeeze.
Even the most deprived families will not get government-funded vouchers over the coming fortnight, although some schools and councils will pay out of their own pocket.
Anne Longfield, Children's Commissioner for England, told HuffPost UK that it was time for Williamson to reconsider.
"With nearly a million people now signing up to receive Universal Credit, it's extremely worrying that the gift card scheme for families on free school meals will not be extended to all infants and won't cover the Easter holidays," she said.
"I've written to the education minister to raise my very serious concerns about those families who are just above the threshold for free meals, and all the other vulnerable families, who are really struggling to feed their kids.
"Now is not the time to be cautious – we need a bold and generous scheme that makes sure no child goes hungry because of the coronavirus emergency."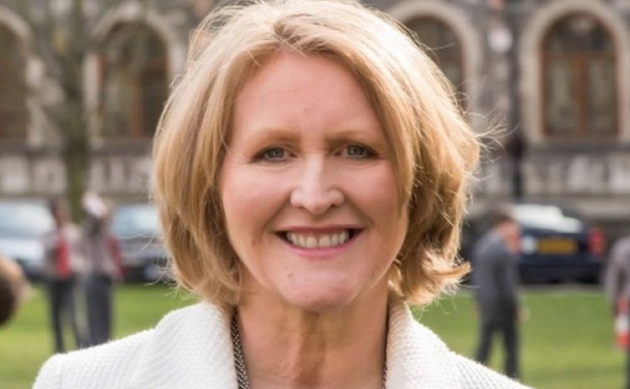 A pledge to keep universal free school meals for infant-aged school children was in the Tory manifesto at the election.
Boris Johnson's chief adviser Dominic Cummings was a sharp critic of the policy when the Liberal Democrats introduced it under the Cameron-Clegg Coalition government.
Shadow education secretary Angela Rayner said that while she wants to work constructively with the government during the pandemic "it is utterly wrong for Ministers to sneak out a policy like this under cover of a national crisis".
"A million people signed up for Universal Credit in the last fortnight alone, and millions more face redundancy or pay cuts as they fall through the gaps in the government's economic support scheme.
"The last thing they need is a double whammy of losing healthy meals for their children as well. We should be ensuring that no child goes hungry, not re-imposing means testing through the back door.
"Our hard-working head teachers and school staff have more than enough to deal with right now, without the government expecting them to act as an arm of the DWP. It is completely wrong to suggest that infant schools, which have previously fed every child, would be put in a position of deciding who eats and who goes hungry."
Eligibility criteria for free school meals reveal that they go to families with a parent on Universal Credit, but only if the household income is less than £7,400 a year after tax.
Many families struggling during the Covid-19 crisis will have income higher than that but still be facing a real cash squeeze.
Director of Policy at The Children's Society, Sam Royston said that free school meals a family around £400 per year per child and are sometimes provide the only healthy, nutritious and filling meal a child gets each day.
"We are deeply concerned to hear that this offer will not be extended to the many low income families who receive Free School Meals through the Universal Infant Free School Meal offer, but would not otherwise be entitled," he said.
"In particular, many children in low income working families would not normally be entitled to Free School Meals, but can receive help as a result of the Universal Infant Free School Meals offer.
"Parents in these families may be at risk of experiencing a significant fall in hours and earnings, as well as seeing expenses going up, and they will struggle to cover the additional costs of their child being at home."
The Children's Society is also calling for the government to introduce an additional temporary uplift in child benefit payments for all parents of £10 per child per week.
Paul Whiteman, general secretary of the NAHT head teachers union, said: "Everyone was most concerned with getting the voucher system up and running for children on the pupil premium register. Something that is very much on our minds though, is that as the crisis deepens, the number of families who are struggling will increase, and we'll need to be able to reach them somehow too."
Tim Roche, general secretary of the GMB union, said: "The coronavirus crisis shouldn't be used to effectively end universal free school meals. I can't imagine a situation where taking food out of kids' mouths is a good idea, let alone the middle of a crisis where people are struggling.
"We cannot be in a situation where people in schools are having to decide who eats and who doesn't."
A Department for Education spokesperson said: "Our focus is on making sure that the 1.3 million disadvantaged children who would normally have a free school meal do not go hungry as a result of staying home to protect the NHS and save lives.
"Any child still attending school – those of critical workers or who are classed as vulnerable – should still be provided with meals if requested.
"Schools and local authorities will know who their eligible pupils are. They should continue to accept free school meal applications from families that may become eligible for this support due to a change in circumstances."
Both the NASUWT and National Education Union were approached but declined to comment.
Via:: https://www.huffingtonpost.co.uk/entry/williamson-free-school-meals-coronavirus-childrens-commissioner_uk_5e8703d1c5b63e06281c4142