There is no one quite like a drag mother. A mentor, friend and ally, she's the glamorous matriarch of any drag family – a close-knit support network of drag queens and performers. She's generally a more experienced queen with a formidable reputation on the LGBTQ scene who nurtures her coterie of drag daughters – and on Mother's Day, she too deserves to be celebrated.
"To be a good drag child you have to be respectful and listen to those who came before you," says London-based DJ and performer Raven Mandella. "It's literally the same way I respect my birth mother."
Raven is both a drag mother and daughter. When she relocated from Leeds in 2013, she entered a drag competition where she was mentored by Mzz Kimberly, a highly respected trans performer and activist. Their relationship continued to blossom after the competition as Mzz Kimberley helped Raven to "develop and grow as a performer by giving me advice and work opportunities when they arose". Raven says she now considers Mzz Kimberley "one of my closest friends and a true ally", adding passionately: "I have the utmost respect and admiration for her. She's a warrior, and she'll always be my mother who I hold in the highest regard."
Mzz Kimberley prides herself on helping her drag daughter to navigate the world with confidence and conviction – just like any mother figure. "She always reminds me to value myself and my own personal worth," says Raven. "Sometimes businesses can try to take advantage of artists, and knowing your worth can be an inconvenience to them. But if I've ever had to make the decision to step away from an opportunity because I've felt like I've not been valued, she's always there to remind me I'm doing the right thing by standing strong and believing in myself."
As Raven's own reputation grew, she realised she could pay it forward and offer emerging drag queens the same guidance and advice that Mzz Kimberley gives to her. She says she was especially motivated to become a drag mother because, when she arrived in London, "there were hardly any drag queens of colour on the scene". Raven now has two drag daughters, Asttina Mandella and Brandy X Mandella, who've adopted her surname as members of the "House of Mandella", a kind of burgeoning drag dynasty. LA-raised Brandy first became friends with Raven when she visited London in 2014, but their relationship deepened when she decided to make the UK her permanent home.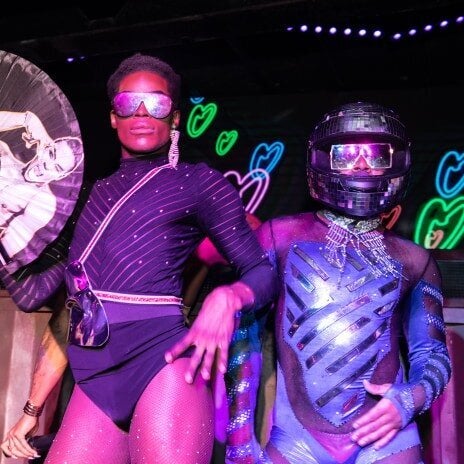 "Visiting was one thing, but living here I realised I'd have to start over from the bottom up," Brandy recalls. "I was now in a new country working on a different nightlife scene. Raven immediately took me under her wing and asked me to work as a backing dancer at her amazing Prince tribute night." Six years after they first met, Brandy says they enjoy a "typical" mother–daughter relationship: "She loves me unconditionally, but with love comes discipline."
That's because a drag daughter often feels a responsibility to maintain her drag mother's high standards. "In our house culture we get to choose our family and that to me is very special," Brandy explains. "I'm honoured to be Raven's daughter and I'm very thankful to be given the opportunity to become an important member of the LGBTQ nightlife scene. I wouldn't be where I am without her and for that I'm forever grateful."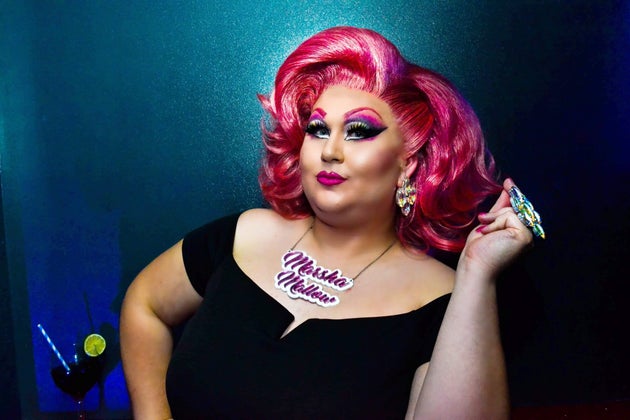 Other drag mother-daughter relationships are more informal, but no less loving. Marsha Mallow says that when she first saw Miss Jason on stage at a south London gay venue, she was "in awe of her sense of humour" and the way "she knew how to have fun with the crowd at both their expense and hers". But when Marsha asked Miss Jason to become her drag mother, the more experienced queen replied self-deprecatingly: "Darling, I can't even sort myself out!"
Still, their mother-daughter relationship blossomed over time anyway. Marsha says that after gigs she and Miss Jason like to "get together and put the world to rights". It sounds as though their relationship has a lovely conspiratorial quality, but one that's grounded in real support. Marsha adds: "Miss Jason now says to me, 'Listen to mumsy dear, and everything will be fine," and actually it always has been." For her part, Miss Jason says that being a drag mother is "the most wonderful thing and a privilege" because she gets to "pass my experience on to this talented young person that I love and admire". She also says she's grateful to mentor someone like Marsha who has "such a belief in continuing the great tradition of drag".
Having a mother you can relate to and who's gone through the same trials as yourself can be invaluable and at times a matter of life or death."Drag queen Raven Mandella
All the queens are keen to make clear that being in a drag family is about much more than sharing make-up and performing tips – it's about mutual solidarity. For this reason, they'll be celebrating their bonds especially proudly on Mother's Day. "I'd like to think that people would try to understand that relationships like these can be crucial to people in our community," Raven Mandella says. "They're so important in way a world where people still get kicked out onto the streets and even attacked for being gay." She adds with palpable gratitude: "Having a mother you can relate to and who's gone through the same trials as yourself can be invaluable and at times a matter of life or death."
Via:: https://www.huffingtonpost.co.uk/entry/celebrating-drag-mothers_uk_5e73613ac5b6f5b7c53efb6a