By Rachel Moss
Public Health England is yet to offer specific advice relating to Mother's Day, but it did confirm to HuffPost UK that it is not currently advising anyone to avoid travelling around the UK if they don't have symptoms.
If you're feeling healthy, making a visit home this Sunday could provide a boost to everyone's wellbeing and help stave off loneliness – particularly if you or your mum have been working from home all week. However, some experts have suggested we should start social-distancing right away to limit the spread – even if you don't have symptoms.
We know that when it comes to protecting family, many would rather be cautious – especially considering those over 70 or with underlying health conditions are most at risk – so marking Mother's Day this year could mean making a few adjustments for everyone's peace of mind.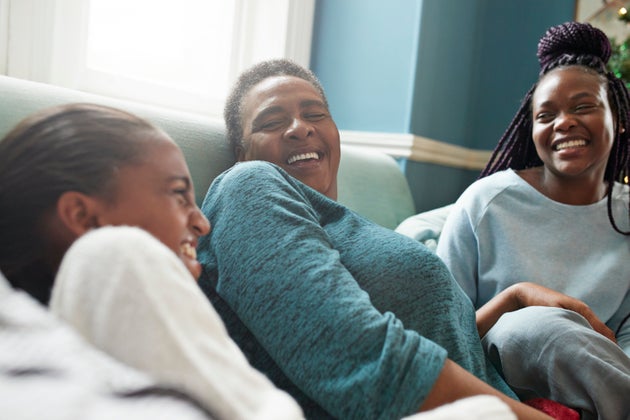 Do you usually go out for a meal with your family on Mother's Day? To curb any feelings of health anxiety, consider cooking dinner at home, rather than heading out to a busy restaurant.
To limit the impact this has on local restaurants, ask them if they offer gift vouchers. Purchasing an IOU as a Mother's Day gift is the perfect way to look forward to brighter times and do your bit to help local businesses.
If you want to limit contact time with loved ones considered high risk, why not have a virtual Mother's Day and spend time chatting over a group video call? It's expected that those over 70 will be told to remain home for an extended period of time within the next few weeks, so now's a good time to make sure relatives know how to utilise technology to stay connected.
Planning a Skype visit is particularly important if you usually visit parents or grandparents in care homes on Mother's Day, as residential care workers have been instructed to encourage virtual visits wherever possible.
Going virtual doesn't mean your mum has to miss out on a Mother's Day gift, there's still plenty of time to purchase an online delivery, from flowers to a gift subscription. Sending a good book or puzzle their way could also be hugely appreciated in the coming weeks.
Of course, the situation is rapidly changing so ahead of Sunday, keep an eye on the official government advice on coronavirus, plus read the latest news from HuffPost UK.
Via:: https://www.huffingtonpost.co.uk/entry/mothers-day-travel-coronavirus_uk_5e6f4822c5b6747ef1210a08