Every year on Christmas Day, Shashi and Pallu Patel open the doors of their Twickenham newsagents to locals who would otherwise be spending the day alone. "Pop in for a hug and a mince pie!" reads a sign outside their shop. "You don't have to buy anything… we are family."
The couple aren't obliged to open the shop on 25 December. In fact, it's the one day they can have off work because newspapers don't go to print – but they say they'd rather spend it bringing smiles to people's faces.
In 2017, around 350 people visited 'Meet & Deep News' on Christmas Day. An international student, who travelled to their Twickenham store from Bethnal Green, said he found "comfort and friendship without judgment".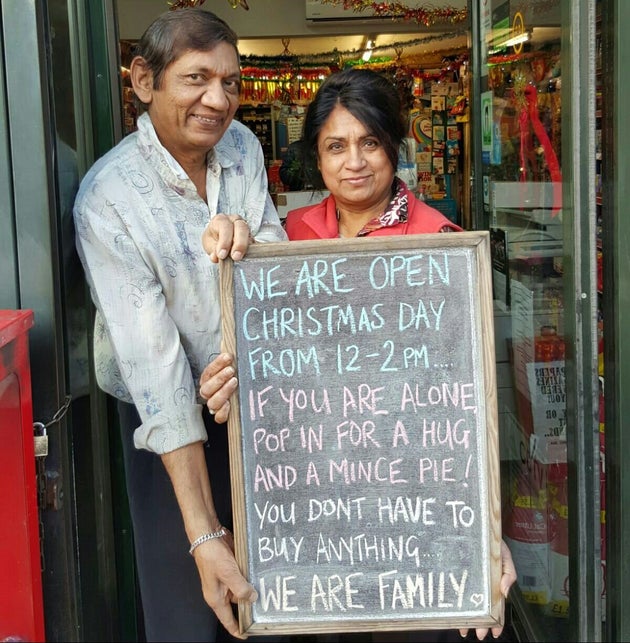 Shashi and Pallu live above the shop with their two adult sons, Dee and Meeten. They've been running it since 1983 and, during this time, have become key pillars of the community.
Dee told HuffPost UK his parents have opened the shop on Christmas Day for 16 years now. It all began when a man knocked on their shutters one Christmas morning – he wanted to buy a phone top-up card so he could call his mum overseas and wish her a merry Christmas.
Pallu heard the knock and went downstairs in her pyjamas to let the man in. She sold him the card and waved him off, knowing the simple act of kindness had made his day.
From then on, the family decided to open up shop for a few hours every Christmas.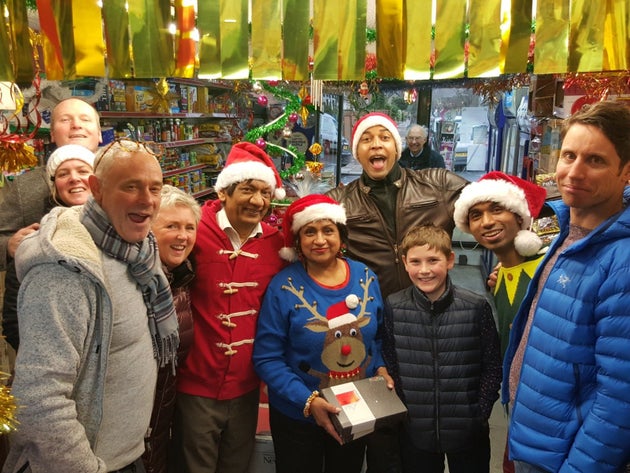 The family's idea to give out free mince pies came a few years later when a local elderly lady called Dorothy had £400 cash stolen from her home right before Christmas. "She came into the shop and was in tears," Dee recalled.
His brother Meeten suggested they hold a festive get-together on Christmas Day to cheer her up, so they brought in cakes and mince pies. The local community got involved too, raising money for Dorothy to replace what had been stolen. "She really enjoyed it," said Dee.
"She said it was the best Christmas she's ever had."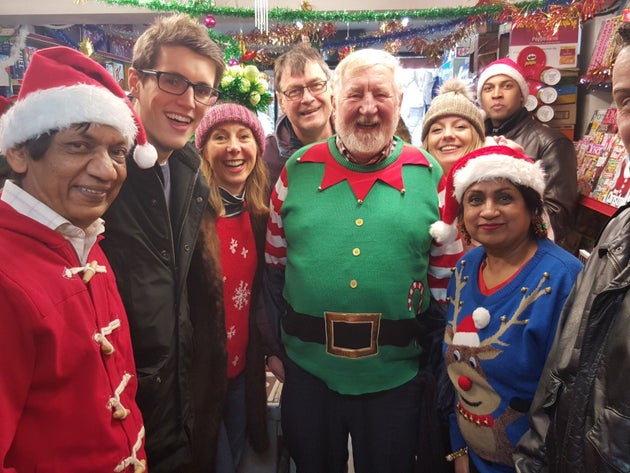 It's since become a ritual for the family – they now host hundreds of people, young and old, on 25 December, from students and divorcees to those who don't have loved ones around them. The Patels say everyone stands in the aisles, eating food and having a chat before parting ways.
"To be with people on Christmas Day is better than being with yourself, because that's what Christmas is all about," said Dee.
"It's about sharing, caring and love. In Hinduism, the main underlying theme is karma – you do good for other people and don't expect anything in return. Seeing people's happy faces – that makes them happy and all of us happy, too."
One customer told HuffPost UK: "It's just a very giving place. It's more than a shop, let's put it that way."
Via:: https://www.huffingtonpost.co.uk/entry/this-hindu-family-invites-lonely-locals-to-their-shop-on-christmas-day_uk_5dfb86a3e4b01834791ca581