24 December (Christmas Eve)
Check before you travel on Christmas Eve. Most train operators are running as normal up until midday, before slowing down services. Last trains tend to be between 7pm-9pm depending on the route and the operator, with some airport services running until midnight.
The key news for commuters is that no trains will run to or from London Paddington station on Christmas Eve, including Heathrow Express services, due to engineering works. Because of this, TfL Rail will run an amended train service between Reading and Slough as well as rail replacement buses.
There won't be a Caledonian Sleeper service on Christmas Eve.
Thameslink, Great Northern and Gatwick Express are running a normal timetable until 1pm, when they will switch to an off-peak service. Services will start to wind down from 8pm.
For c2c, trains will run normally until 10am and then an amended service is planned to run, while Avanti West Coast is due an "early close down". On Southern Railway, a reduced service will start to operate from 7pm with no trains running after 11pm.
Last trains tend to be between 7pm-9pm depending on the route and the operator.
Chiltern will run a weekday timetable, amended from 3pm, with an earlier than usual finish. Cross Country is operating a normal service until mid-afternoon and then trains will be less frequent – an 8pm shutdown of train operations means last trains will be earlier than normal.
There are more altered afternoon timetables for East Midlands Railway and Great Western Railway (GWR). With the latter, trains won't be running from between London Paddington and Slough/Reading due to engineering works.
All Greater Anglia train services (excluding Stansted Express) will finish earlier than normal on Christmas Eve. The last services will finish around 10pm, however Stansted Express services will continue half hourly until just before midnight.
On Grand Central, some services will not run – you can see which ones here. Hull trains is running an amended timetable all day, and the 19:08 Hull to London Kings Cross service will not run.
For Island Line, the network will shut down completely from late evening – so don't get caught out. If you're planning to travel on Tuesday evening, check to make sure your journey will be possible.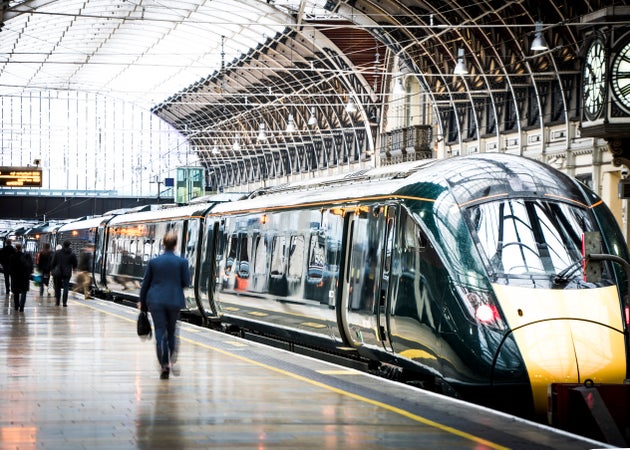 On Christmas Eve, London North Eastern Railways (LNER) trains will stop running earlier than normal. A number of southbound and northbound train services won't be running, which you can find more details of here. London Northwestern Railway services will finish earlier than normal, too – more details here.
The London Overground, Merseyrail, TransPennine Express, Transport for Wales and West Midlands Railway appear to be operating normally in the day with an early shutdown on all routes. While on all Northern routes, trains will start to be withdrawn from 7pm, and after 9pm, most services will not run.
South Western Railway trains between London Waterloo and Reading will be busier than normal due to Paddington being closed, however National Rail says extra trains will run between London Waterloo and Reading to compensate. As a result, an altered timetable will run on this route all day. The network will shut down completely from late evening.
A normal Tuesday service will operate for Southeastern during the day, with a revised evening peak Mainline London Cannon Street service. No trains will operate after 10pm.
You can see the last trains running from Londonon Christmas Eve here.
25 December (Christmas Day)
There are no rail services operating on Christmas Day. If you're planning on travelling, you'll have to make alternative arrangements or stay where you are.
26 December (Boxing Day)
On Boxing Day, the following operators aren't running any services: Thameslink, Avanti West Coast, Gatwick Express, ScotRail, c2c, Caledonian Sleeper, Cross Country, East Midlands Railway, Great Western Railway, Grand Central, Great Northern, Heathrow Express, Hull Trains, Island Line, London North Eastern Railways (LNER), London Northwestern Railway, South Western Railway, Southeastern, TfL Rail, TransPennine Express, Greater Anglia, Transport for Wales, and West Midlands Railway.
The good news is, there are a handful of operators running limited services. Southern Railway, for example, is running trains on a revised timetable between London Victoria and Brighton, London Victoria and Three Bridges, London Victoria and Sutton via Selhurst and West Croydon, and London Victoria and East Croydon via Streatham Hill and Norwood Junction.
Chiltern will be running a special service of two trains per hour in each direction, between London Marylebone and Oxford Parkway, from 8am until 8pm. No other services will operate.
There won't be any Greater Anglia train services on Boxing Day, but Stansted Express services will be running. Due to engineering work at Bethnal Green, Stansted Express services will run between Stansted Airport and Tottenham Hale only. Any passengers who want to go to central London should get off at Tottenham Hale and use Victoria Line tube services.
On the London Overground, a partial service will operate on Boxing Day. There will be four trains per hour between Hackney Wick and Clapham Junction, and four trains per hour between Highbury and Islington and West Croydon.
For the first time, Northern will run some trains on Boxing Day between Skipton and Bradford, Ilkley and Bradford, and Bolton and Salford Central. Merseyrail is also running a special service between 9am and 7pm on Boxing Day, calling at selected stations.
Via:: https://www.huffingtonpost.co.uk/entry/train-times-at-christmas_uk_5df8d68ce4b03aed50f57250