By Paul Waugh
Two of Jeremy Corbyn's most senior aides are in line for pay-offs despite their role in Labour's devastating election defeat.
Communications chief Seumas Milne and chief of staff Karie Murphy will be eligible for substantial settlements because they were switched to permanent contracts in 2018 by new general secretary Jennie Formby, HuffPost UK has been told.
One senior Labour MP dubbed the arrangement "rewards for failure", a reference to business chiefs who continue to get paid despite their company posting losses.
Most staff who report directly to Corbyn are on time-limited contracts are tied to the tenure of the Labour leader.
But Milne and Murphy were given new arrangements that mean that they cannot be replaced without payouts, sources say.
On Tuesday, the Parliamentary Labour Party (PLP) of MPs and peers is due to meet for the first time since the election defeat, with many demanding Corbyn and his top team should resign immediately.
However, Labour's ruling National Executive Committee (NEC) is expected to go ahead next month with a timetable for a leadership election that allows Corbyn to stay on until March.
With no deputy to take over as acting leader, following Tom Watson's departure, Corbyn has signalled he would like to stay in post until a successor is found. A new leadership contest is expected to start on January 7.
Party staffers are furious that Murphy, who was given unprecedented power over human resources, and former Guardian columnist Milne will not be forced to quit automatically the moment Corbyn steps down from office.
Figures published by parliament show Milne was paid £104,044 a year in 2018/19, while Murphy was on a salary of £92,563 – among the highest wages of the entire leader's team.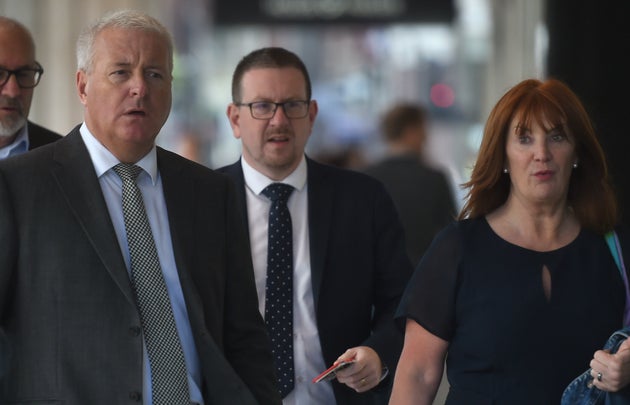 Although their salaries are paid by the taxpayer through so-called "short money" that funds the work of the opposition, there are also questions as to how they can be directly employed on permanent contracts while doing party political work.
One senior party figure said the only way the pair could be replaced against their will would be through a financial settlement agreed by both sides, a practice commonly used in business when a firm wants to force a resignation.
Formby wrote to all staff the day after the shattering election results to signal that those on contracts linked to Corbyn's reign as leader of the opposition could face lay-offs early in the new year.
During the campaign, staff at Labour's call centre in Newcastle were shocked to find that they would be sacked by the end of the year, amid continuing worries of a cash squeeze.
One MP said: "What's the difference between this and big firms that lay off workers while protecting fat cat bosses? It's the same 'rewards for failure'."
Labour is already cash-strapped after its election campaign and many insiders claim £3m was wasted on Murphy's pet project of a network of "community organisers", as well as large sums lost on the ill-fated Labour Live festival.
"Short money" is tied to the number of MPs opposition parties have in the wake of an election.
Party insiders say the move to give Milne and Murphy employment protection beyond Corbyn's reign is highly unusual and was further proof that the latter "effectively made herself the general secretary in all but name".
During a shake-up of responsibilities at the party HQ last year, Murphy took over ultimate responsibility for human resources, although a new HR director was appointed and reported directly to her, insiders said.
Bob Roberts, Ed Miliband's executive director for communications, and Torsten Bell, his executive director for policy, both had their contracts tied to the tenure of the leader even though they had been transferred to HQ posts.
Murphy worked out of the leader's office in the Commons until she was moved to an office in Labour's HQ before the general election. The switch provoked a backlash from her allies as Helene Reardon Bond became director of the leader's office instead.
A spokesman for the party said that Labour refused to comment on staffing matters.
Via:: https://www.huffingtonpost.co.uk/entry/corbyn-seumas-milne-karie-murphy-permanent-contracts_uk_5df7acc7e4b03aed50f2409f