Boris Johnson has been warned a new referendum on Scottish independence is "unstoppable" as the SNP's new bloc of MPs arrived at Westminster.
Westminster leader Ian Blackford drew huge cheers from the party's 48 MPs as he declared "the SNP have won the election in Scotland" outside parliament on Monday.
Nicola Sturgeon's party won 48 of Scotland's 59 seats at last week's general election, ousting seven Tory MPs and the pro-Union Lib Dem leader Jo Swinson.
The first minister of Scotland has confirmed her party will now formally request powers from the UK government to hold a second vote on whether Scotland breaks from the United Kingdom – something Johnson has so far ruled out.
Speaking to the media outside Westminster, Blackford said: "We have won 80% of the seats in Scotland.
"The Tories offered one simple message: say no to indy ref two. Well, Boris, you got your answer: you lost more than half of your MPs, you trail 20 points behind the SNP."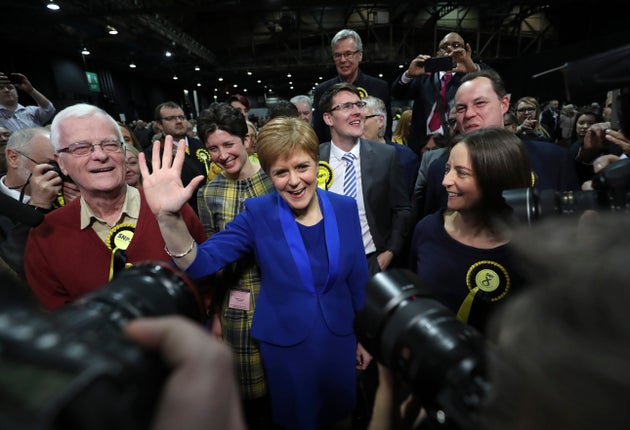 Blackford added: "Respect democracy, respect the Scottish people, and recognise that we should have that power to determine the timing of our referendum and that we have that beacon of hope for the people of Scotland that we can rescue ourselves from the madness of Brexit and there is that signpost towards Scotland becoming an independent country.
"Make no mistake – we will have that referendum."
It is unclear how the SNP will further its case if Johnson continues to refuse to hand powers to hold a vote over to Holyrood. Senior figures have hinted attempts to block the move could face a legal challenge in the courts.
Blackford's demand comes after senior Scottish Labour figures including ousted MPs Ged Killen and Paul Sweeney and long-standing left-winger Neil Findlay all backed Scotland having a fresh vote.
He told reporters: "This movement towards having a referendum is unstoppable and it is simply the wrong thing to do for the Conservatives to stand in the face of that.
"The referendum is coming. It will happen and the sooner they recognise that, the better."
After the Labour Party was decimated at the general election, Blackford also said the SNP would attempt to defend the NHS and oppose austerity.
"We will be the effective opposition, the real opposition in this parliament at Westminster," he said. "We recognise the obligation that we have."
Via:: https://www.huffingtonpost.co.uk/entry/boris-you-lost-new-gang-of-snp-mps-demand-new-scottish-independence-vote_uk_5df7ade6e4b0ae01a1e4511e