By Anna Katina
Dear friends, Summer has finally started (hopefully) and it's time for some Summer inspiration! I'm back from Malta and of course I had to write a blogpost about this adventure! I will start with Valletta, continue with Marsaxlokk and Comino and last but not least present you the EF Malta campus I visited!
So, Malta is one of Europe's smallest countries and in 3-4 days you can see a lot! You can rent a car but be aware that all cars drive on the left side of the road and the steering wheel is located on the right-hand side of the car. We did not rent a car, instead we did everything by foot, bus, ferry and Bolt (like Uber). We were based in the heart of Valletta and it took us 5 minutes by foot to arrive a the main bus station at the Tritons Fountain (beautiful spot!!).
The island is very social and I'm super thankful for the people I met here! I will never forget the dinner we planned with my mum, a table in-front by the sea, just the two of us and how we ended up as a group of 10 with people from all over the world, all sitting around a table – what a night!!
Malta's off-season sunshine makes it a wonderful destination for a spring or autumn break. In May and it felt already like Summer! Locals say it's the best time to visit the island before the high temperatures and crowds take over! I have to say, we were very lucky with the timing because many places we visited we pretty empty, which for me was very enjoyable! Of course, the main streets, like the Republic Street in Valletta are busy at any time!
So here are the things my mum and I did in Malta!
Valletta
Valletta is one of the most well-preserved cities in Malta, the fortified tiny capital of the Mediterranean island has survived many historical events but has undergone no significant modifications since 1798!! Let's discover it together!
St. John's Co-Cathedral
Valletta, actually, all of Malta, is dotted with giant domed churches, but the most impressive of all is St. John's Co-Cathedral. From the outside it may look plain, but the interesting part happens once you go through the doors where every surface is decorated with colour and sparkling gold! My mum ran into the cathedral so I had no choice and followed. I'm glad I did. Not only you can admire the exiled Caraveggio's masterpiece "The Beheading of Saint John" but also the tombstone-covered floor. Yes, beside the decorated walls and ceilings, there is the the floor which is covered with memorials for the dead knights. It's one of the most impressive cathedrals I've ever seen!
The Barrakka Gardens
We discovered the gardens by coincidence! You can walk through the Upper and Lower Barakka Gardens and enjoy beautiful panoramic views of Valletta. Also, from 12h to 16h, you can watch cannon firing from the Saluting Battery which were originally fired to welcome ships into the harbour. Look how beautiful the parks are! Olive trees, wooden benches, the mesmerising view, like a painting!
GET LOST IN THE BACKSTREETS
Malta is the perfect place to wander because it's impossible to get lost, the island is small and you will hit water at some point xD. So I recommend just to walk around and discover. You will come across churches, courtyards, sunny terraces, beautiful doors and balconies, museums… The old buildings are breathtaking!
brief history
You should know that the island changed hands over the centuries! It started with the Phoenicians and the Carthaginians who both built ports on the island. Malta was then part of the Roman Empire, then of the Byzantine Empire before taken over by the Arabs and finally by the Normans. When Charles V gave the island to the Knights of St. John in 1530 (called the Knights of Malta), they built up the island and mat maintained control until the French arrived in 1798. The British helped Malta to expel the French in 1800 and Malta joined the British Empire in 1814. Only in 1964 the island became an independent nation!
That's why you can find elements of many different cultures in Malta! Also when observing the Maltese, I could recognise Italian, Arabic traits, in their look and language, it's a unique country with many facets, so interesting!!
Where to eat in Valletta?
Breakfast
Every morning, we had breakfast at the same spot, the Cordina Café located in the heart of Valletta. Watch the video below, doesn't the place look magical? You have to try their rainbow cake!
CAFé Cordina
244 Republic Street
Lunch & Dinner
Again, I don't really have specific addresses for you, but I recommend Trabuxu, a fancy hipster restaurant as I'd call it – nice food, funny ambiance, less mainstream and cool outdoor and interior decoration! If you can, head over to Marsaxlokk for lunch at dinner (at least once!), more infos below about the fishing village are following!
Where to stay in Valletta?
Stay at De Vilhena for a unique view of the city you can enjoy from your room or from the rooftop bar. We had a beautiful big room and the location was just perfect, it's impossible to be located more centrally!
Marsaxlokk fishing village
Marsaxlokk Bay is Malta's second largest natural harbor, hundreds of colorful Maltese fishing boats decorate the port. This place is so pretty!!! There is also a fish market which gives tourists an insight into the local life and traditions. You can take a colorful boat to Saint Peter's pool! As we had many other plans, we took a ride for a quick dip in the swimming area and our captain waited for us. It took me about 15 minutes to jump and I finally did it with the help of a stranger who kindly offered his help!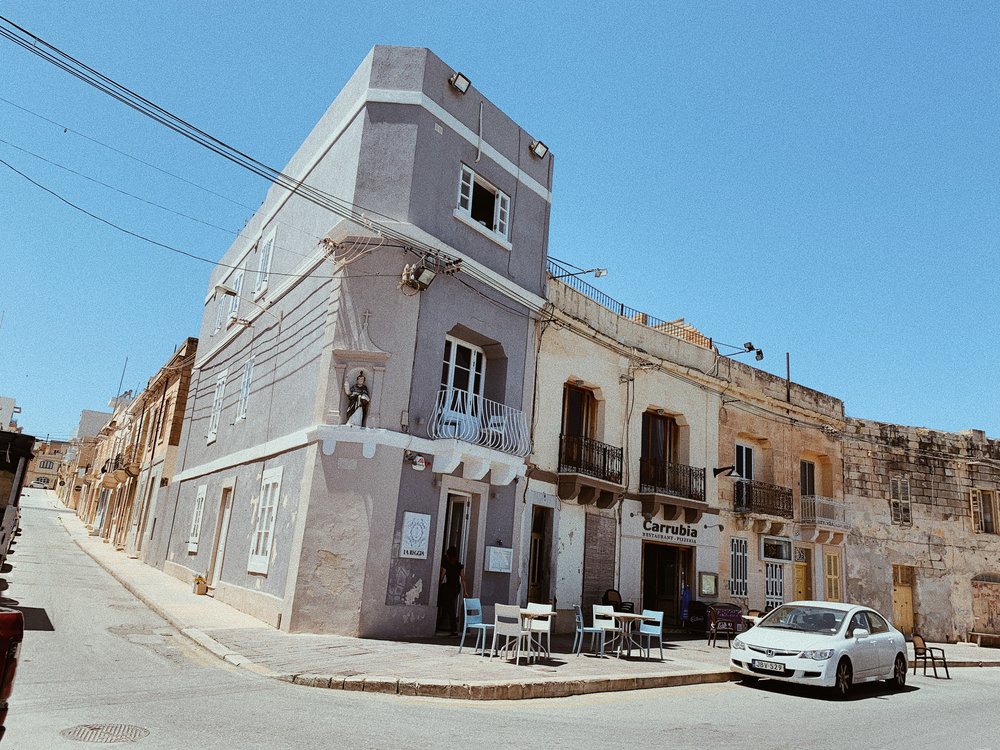 St Peter's pool
We had a group dinner at Marsaxlokk which I will never forget. We were sitting right in front of the boats and the restaurant (pick one of the restaurants along the sea, they should all be good) served us a huge salt baked fish, photo below, so impressive and so so good!!
SALT BAKED FISH
Comino
Comino is a small island between Malta and Gozo and is known for the beautiful Blue Lagoon bay with its crystal clear and azure-coloured water! Look at the photos below! We took a bus, then a ferry in the morning so when we arrived it was still pretty empty! After lunchtime the situation changed and it became so crowded! Apparently it's worse in high season and locals don't recommend to come here during this period to avoid heat and crowds. So we were very lucky! We took a walk to admire the rocky wilderness with jagged cliffs and deep caves. The views are absolutely stunning!!
BLUE LAGOON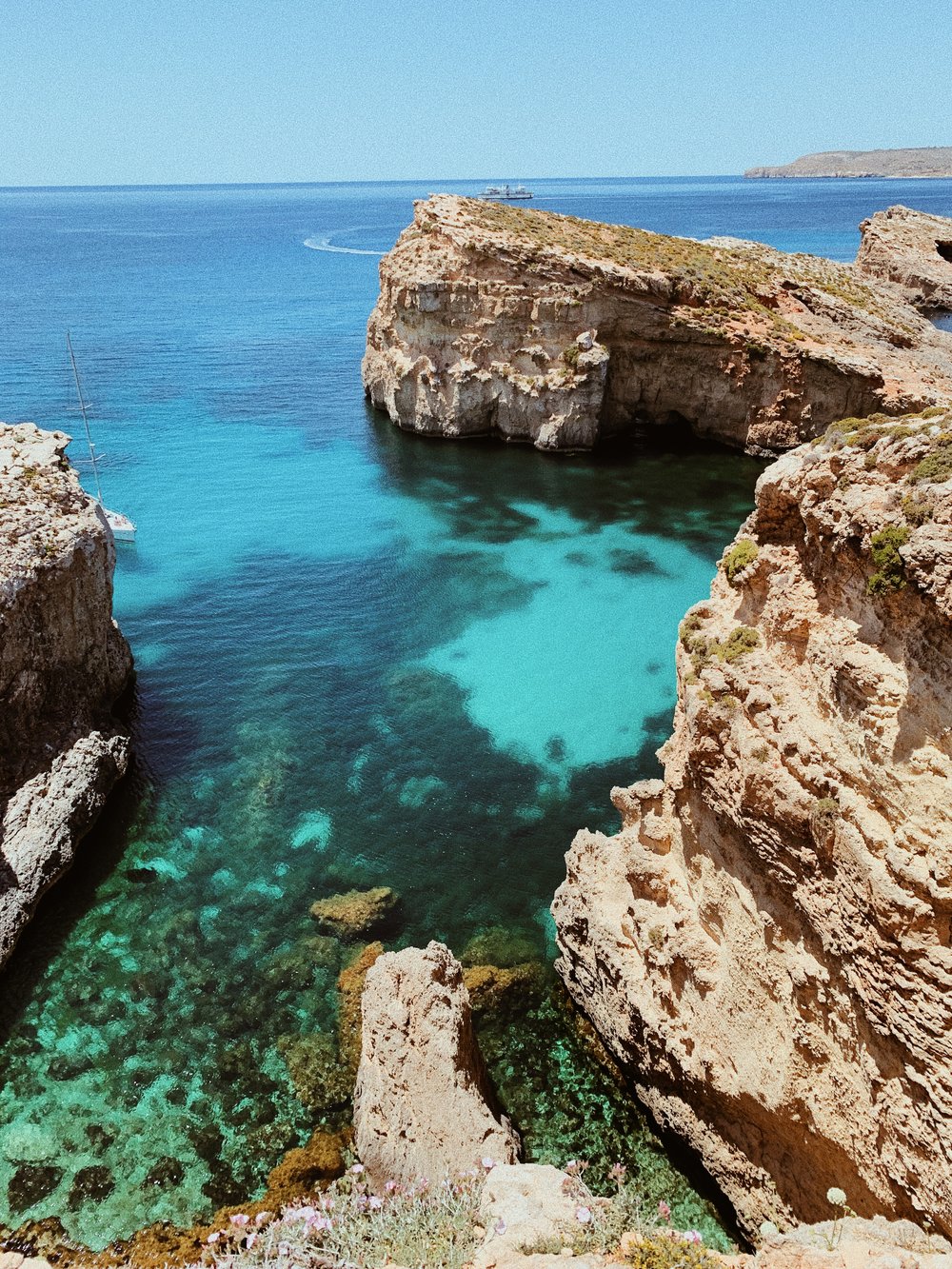 Popeye village
After quitting Comino, we headed over to the Popeye village by bus (10 minutes away from the ferry station). It's the film set from the 1980 musical 'Popeye' which has become a theme park village with boat rides & food outlets! We didn't enter the park, instead we adimired the beautiful construction from outisde. I would love to live in a village like this, look at these cute wooden houses!! Also, we had lunch at the Popeye restauraunt, a cute spot, very American and old-school and totally empty which I liked of course. It looked like an abandonned restaurant in the middle of Texas.. 😀 Apparently it's also super crowdy in high season.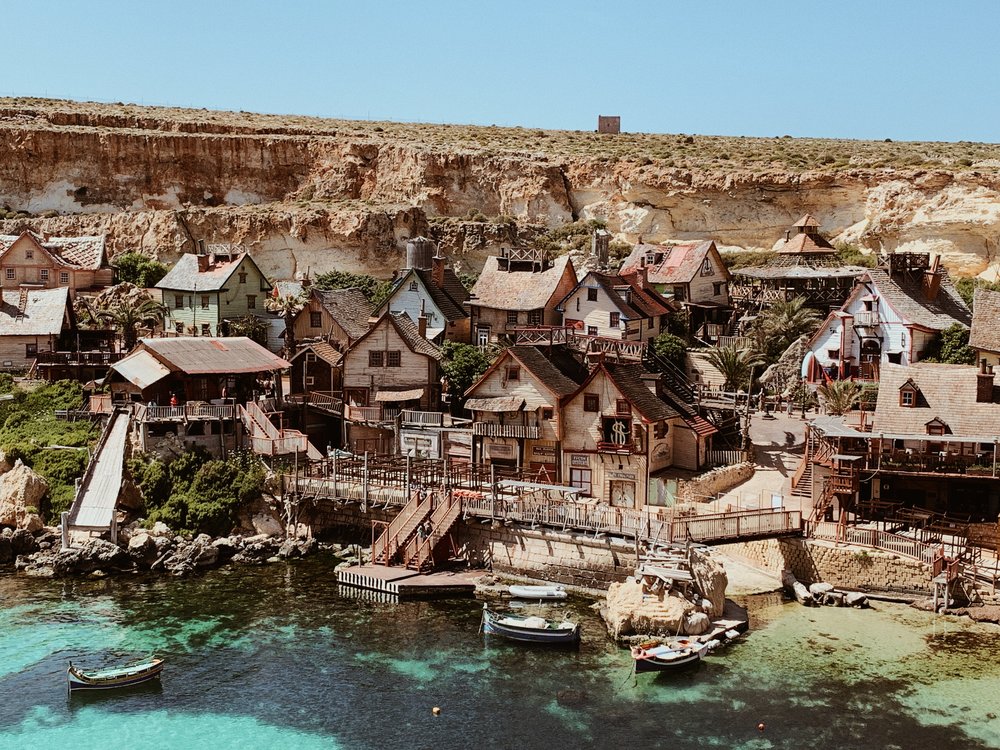 Ef Malta • St. Julians
I had a mission in Malta as I came here with Education First for a training. In fact, I was absolutely curious to discover the EF concept as I never dared to do this experience during my studies so I'm very thankful for the opportunity! As a reminder, Education First is an international education company that specialises in language training, educational travel, academic degree programs, and cultural exchange! In short, you can spend time abroad and improve your language skills at the same time!
I got a few many messages from friends on Instagram who made their EF training in Malta a few years ago, so jealous!! I visited the EF Malta campus every day to attend classes, speak to the staff and students and visit the different facilities or attend activities, so lots of impressions! The ambiance here is very relaxed and I felt so welcome here!! I loved the EF New Work campus but this one is my favourite so far! You can follow my adventure on their Instagram account by watching my stories under the 'Malta' highlight where I show you all the interviews, the EF Malta beach club, the stdent appartments, the campus itself etc!! Here is the LINK!
The campus is located in St Julians, the nightlife town of Malta. If you like to party, come to this town! Clubs, non-stop parties, beach clubs (the EF Malta beach club included) and late night dancings on boats. I went to a salsa class organised by EF in the area and I loved it! I made friends, exchanged with some EF students and learned new salsa moves!!
EF beach club
Below you can see the view from the EF Malta residencies. To see the apartments from the inside, head over to the Malta highlight on EF Luxembourg's Instagram! The pool below fascinated me, how cool is it to have a pool next to the sea? You can choose between both for a swim 😀 There were girls doing yoga in the sea on surfboards, I watched them for an hour or so from the bar right next to the pool, and I thought, ok I need to come back to Malta and relax to the fullest like the girls in the sea. Malta inspired me a lot.
There are other places you can visit in Malta like Mdina, The Three Cities or Gozo but you have to make choices when you come for 3-4 days only and I need to say that I'm super happy with our itinerary. I love having plans when I travel but I also do appreciate to get lost and go with the flow. Malta is one best destinations in my life so far and it will be my new to-go spot.
I hope you like my guide and impressions, if you liked it (or not?), if you have questions or comments, share your thoughts below my friends!! Kisses, Anna
Malta, May 2019
Via:: https://www.annakatina.com/blog/what-to-do-in-malta-valletta-comino-guide-spots